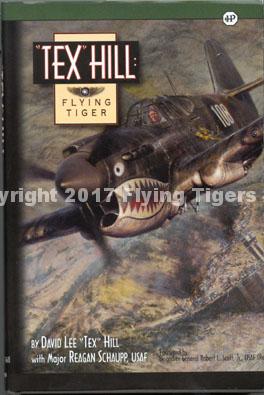 Born the son of missionary parents in Korea, David "Tex" Hill has become one of America's most famous and beloved fighter aces. "Tex" Hill: Flying Tiger recounts his intriguing early life, standout career, and non-stop adventures of all kinds. Tex's story is inescapably intertwined with those of Claire Chennault, the famed 'Flying Tigers', and the nation of China, and this book weaves all three fascinating storylines into a masterful tapestry, certain to entertain and educate.
Tex and his grandson relate Hill's exploits through his naval aviation days and on to the Far East, where a motley collection of maverick airmen and ground crew — the American Volunteer Group — changed the face of the war in China and Burma through unparalleled valor.
The story then moves on to Tex's command of America's first jet-equipped fighter squadron and the creation of the Texas Air National Guard. The authors include a hard-hitting assessment of the failures and missed opportunities that changed China's stance toward America and the West just a few short years after their wartime alliance.
Finally, Tex's foray in the the realms of Hollywood filmmaking, African big game hunting, mineral mining in Mexico, and operating oil interests in south Texas round out the tale, providing an insightful look into the life of one of World War II's premier flying legends.